Certified Atlanta Electricians
Our professional electricians are fully experienced to handle your electrical needs in the Metro Atlanta area and have the quality, skills and workmanship that you are looking for.
Schedule Service Online
Having Electrical
Issues?

Yes - we can absolutely help you.
Just give us a bit of information, and we will get you taken care of immediately.

A few words to describe what you are looking for, a perhaps a picture if you have one to share – and we'll be off to the races, and on our way!

Schedule your service today by filling out the form or giving us a call at 678-SHUMATE
Open Form
Electrical for Your Whole Home

We created Shumate Electric, staffed only by trained professional Electricians, and dedicated to upholding the extremely high Shumate standards of customer care and superior quality of workmanship. For emergency electrical repair services contact today.
New Light Installs

Electrical Rewiring for Remodels

We'll help you with any remodel that requires rewiring your home, installing new switches and adding outlets.

Upgrading Your Circuit Breakers & Panels

We'll make sure your circuit panels can handle any new additions or added appliances that may require more voltage from your home.

Install Special Appliance Outlets

Many appliances such as washers, dryers, refrigerators and stoves require special dedicated outlets that meet power requirements.

Surge Protection for Your Whole Home

We can provide easy solutions to protect your home, appliances and electronics with whole home surge protection.

Faster A/C & Heating Installs

Since we don't need to hire third party electricians to handle any electrical requirements during installs, we can provide faster installs that are certified.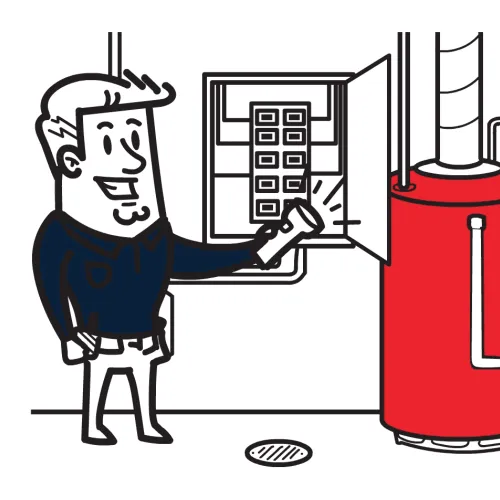 100% Customer
Satisfaction
For everything from outdoor lighting, to hanging big screen TVs, to fixing garbage disposals, replacing total circuit panels, and even rewiring the entire home - Shumate Electric is now Atlanta's top Electrician.
As with our heating and air conditioning services, we always aimed to provide 100% customer satisfaction - meaning Shumate will always try to uphold the highest standards for our team of service professionals. Offers by other companies may appear similar, but our service is top rated, and comes with a personal touch that only we can provide.
Call for same day 24/7 Electrical services for your home for a range of issues - from recessed lighting installation, to emergency power, to just a simple residential electrical inspection.
Keep Your Home Energy Efficient
There are many ways you can keep your home my comfortable and lower your electricity costs at the same time. Our home comfort experts will always advice you one the areas of your home that are lacking in efficiency and recommend the best solutions.
Learn how to make your home more Energy Efficient