Trusted Source for HVAC and Plumbing Services in Smyrna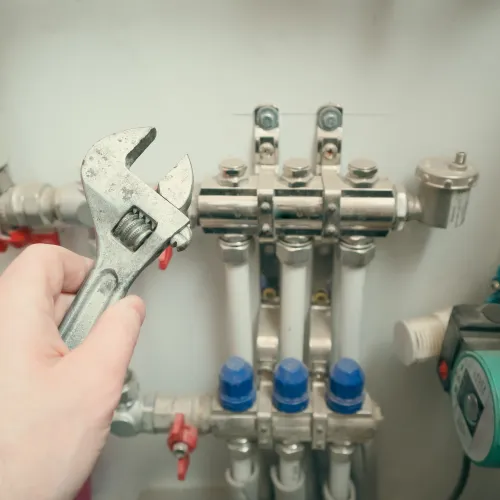 If you're in Smyrna and in need of exceptional HVAC and plumbing services, look no further. At Shumate Heating and Air Conditioning, we take pride in serving residential and commercial properties in Smyrna. With our team of highly skilled professionals and commitment to customer satisfaction, we are dedicated to delivering top-notch services that ensure optimal comfort and functionality.
Prompt HVAC Services for Smyrna Residents
When it comes to your home's HVAC needs, we've got you covered. Our expert technicians specialize in a wide range of residential HVAC services, including installations, repairs, and maintenance. Whether you need a new air conditioner installation, furnace repair, or regular system maintenance, we have the knowledge and experience to meet your requirements and exceed your expectations.
Our Services in Smyrna:
HVAC Services in Smyrna for Businesses and Commercial Properties
Businesses in Smyrna rely on us for comprehensive commercial HVAC solutions. Our skilled team understands the unique demands of commercial spaces and offers a wide range of services tailored to meet your specific needs. From commercial HVAC system installations to regular maintenance and emergency repairs, we ensure optimal climate control and comfort for your business. Trust us to keep your commercial property operating smoothly with our reliable and efficient commercial HVAC services.
Professional Plumbing Services in Smyrna
In addition to our HVAC expertise, Shumate offers top-quality plumbing services in Smyrna. Whether you need plumbing repairs, installations, or maintenance, our skilled plumbers have the experience. We specialize in a variety of plumbing services, including but not limited to drain cleaning, water heater installations and repairs, and commercial plumbing solutions.
Our Plumbing Services In Smyrna:
Frequently Asked Questions
Here are some quick answers to common questions about our services in Smyrna:
Q: What are the benefits of a tankless water heater?
A: Tankless water heaters offer several advantages, including energy efficiency, endless hot water supply, space-saving design, and longer lifespan compared to traditional water heaters.
Q: How often should I have my drains cleaned?
A: The frequency of drain cleaning depends on various factors such as usage, the age of the plumbing system, and any recurring issues. As a general guideline, it's a good idea to have your drains professionally cleaned every 1-2 years to prevent clogs and maintain proper drainage.
Q: Can you help with commercial plumbing installations for new businesses?
A: Yes, we specialize in commercial plumbing installations. Our experienced team can assist with the plumbing needs of new businesses, ensuring proper installation of fixtures, pipes, and other plumbing components.
Q: What should I do in case of a plumbing emergency?
A: In the event of a plumbing emergency, such as a burst pipe or severe leak, it's important to shut off the main water supply immediately and contact our emergency plumbing services. We provide prompt assistance to address urgent plumbing issues.
Q: How can I improve indoor air quality in my home or business?
A: There are several ways to improve indoor air quality, including regular HVAC maintenance, proper ventilation, using air purifiers or filters, and keeping a clean living or working environment. Our experts can provide recommendations tailored to your specific needs.
Q: Do you offer financing options for HVAC or plumbing services?
A: Yes, we understand that HVAC and plumbing projects can be significant investments. We offer flexible financing options to make it more convenient for our customers to access our services.
Please note that these are just a few examples of frequently asked questions. If you have any specific questions or concerns, feel free to reach out to our team. We're here to assist you!
At Shumate, we prioritize your satisfaction and strive to exceed your expectations. With our expertise, attention to detail, and commitment to quality, we are your trusted destination for HVAC and plumbing services in Smyrna. Contact us today to schedule an appointment or learn more about our services. Experience the difference that our professionalism and reliability can make in enhancing your indoor comfort and plumbing systems.