Upgrade Your
Electrical Panel

Yes - we can absolutely help you.
Just give us a bit of information, and we will get you taken care of immediately.

A few words to describe what you are looking for, a perhaps a picture if you have one to share – and we'll be off to the races, and on our way!

Schedule your service today by filling out the form or giving us a call at 678-SHUMATE
Open Form
Do newer electrical panels add home value?
Your electric panel indirectly affects your home's value. Unlike exterior and interior renovations, the role of an electric panel goes unseen until a problem strikes. Rest assured a faulty electric panel will appear during an inspection and deter buyers. An adequate electric panel is important for home safety, efficiency, and future resale.
Schedule Service Now
7 Signs You Need Electrical Panel Replacement
Frequent Breakers Trips
Circuit breakers stop the flow of electricity by tripping breakers. Overloads occur when excessive demand is placed on a circuit. Repeated breaker trips signal the panel lacks the capacity for proper electrical flow. This is a common occurrence in older, outdated panels.
Odd Sounds From The Breaker Box
A loud buzz, popping or crackling noise indicates serious problems within an electrical panel. Odd sounds signal insufficient wiring, loose electrical connections or arching. Service your electric panel right away when odd sounds are observed.
Your Home Is Over 20 Years Old
Electrical service panels need replacement every 20 to 30 years. Be sure to check the manufacturer's label to determine your panel's age. Older homes containing a fuse box should update their electric system immediately. Most fuse boxes do not meet the National Fire Protection Association's electric code and do not have the latest RCD protection, like current electric panels.
Smells From The Breaker Box
A breaker box does not produce any odors. A burning smell warns of melting, burning or overheating. Burning smells indicate loose wires or a failure of the circuit breaker itself. Fishy smells signal a circuit overload, loose electrical connection, frayed cords, power surges or an outdated system. Always contact a professional electrician when any smells occur.
The Panel is Hot
A hot electric panel means the system is malfunctioning and working too hard. Exceeding the maximum power capacity and safety rating is dangerous. Electrical panels prevent overheating from electrical currents for home safety and do not trigger constant, overheating trips.
The Electrical Panel Shows Rust or Corrosion
Visible rust is a clear sign your electrical panel was exposed to moisture. Prolonged exposure corrodes panels, circuit breakers and bus bars. This is a dangerous situation and requires an expert.
Flickering Lights
A sufficient electrical system can handle the voltage when a device or appliance is plugged in. Loose and outdated wiring causes lights to flicker. Upgrade your panel in this instance to avoid arching.
Choosing the Right Electric Panel
Shumate's experts can determine your home's electrical load. A home's electrical load is calculated by the number of amps required to power light fixtures, kitchen appliances, TVs, washing machines and other items requiring electricity. If your electric panel doesn't have adequate power, it's time for an upgrade.
Residential main breaker panels are available in four sizes: 100 amps, 200 amps, 225 amps and 400 amps. The National Electric Code (NEC) requires all homes to have at least 100 amps, although most homes install at least 200 amp panels. Hot tubs, home theaters or homes over 2,500 square feet often need 400 amp service.
How to determine lighting and receptacle needs: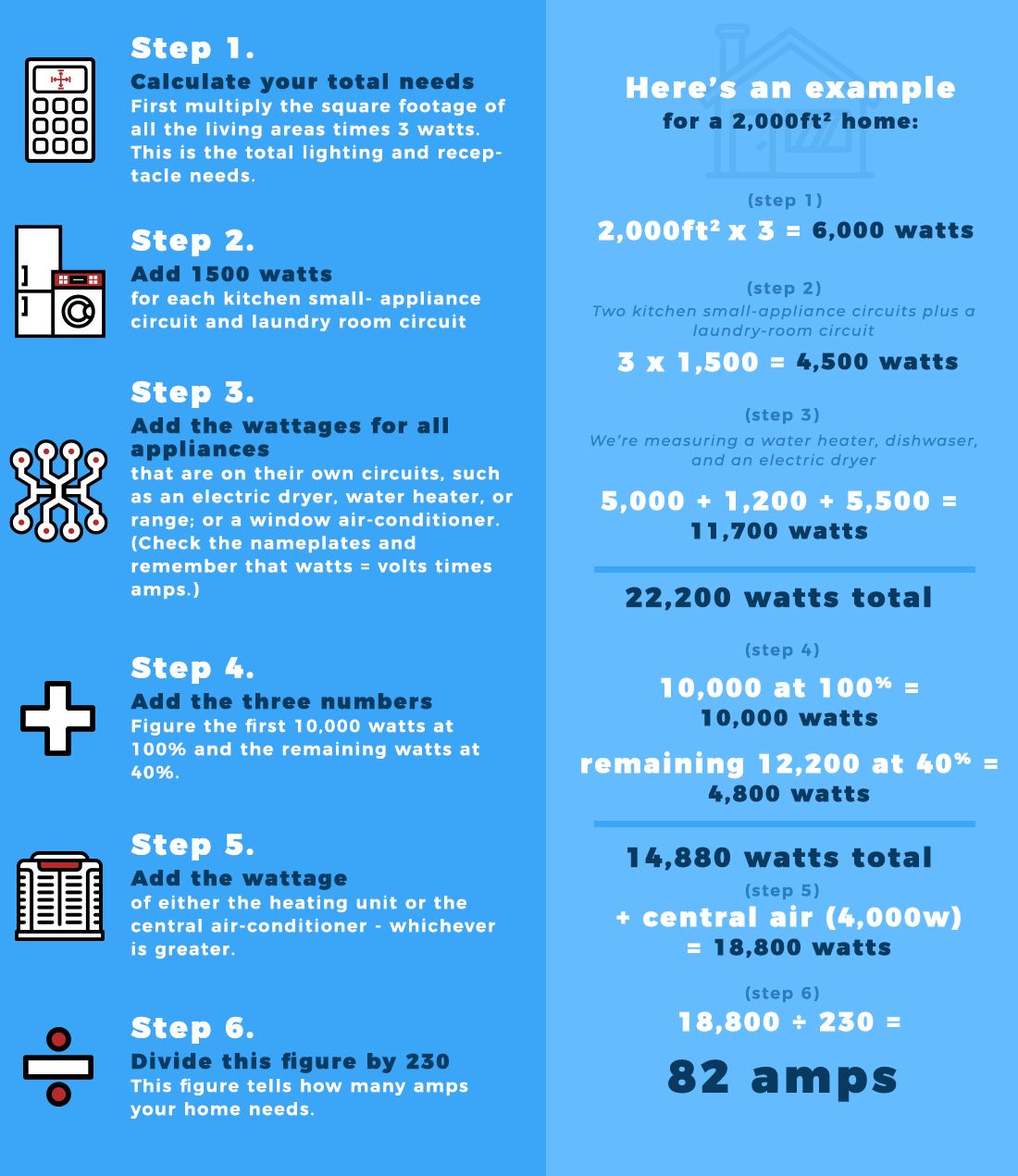 Is Upgrading an Electric Panel Worth it?
Wear and tear affect all aspects of a home, including your electric panel. Electric panel upgrades aren't regarded as a fun task but are well worth it. A panel upgrade benefits homeowners now and for future resale.
Why Upgrade?
Safety. Avoid electrical fires by replacing outdated or overwhelmed panels.
Property Value. An upgraded electric panel with high amperage serves as a key selling point and won't deter buyers like an inadequate panel.
Protect your Electrical System. Outdated panels threaten home safety but also ruin existing systems. Avoid ruining electronics and appliances by ensuring your panel can handle the energy output.
Still unsure if you should replace your electric panel? Contact Shumate for an expert opinion.