Home Updates You Can Do Now - That Will Pay For Themselves!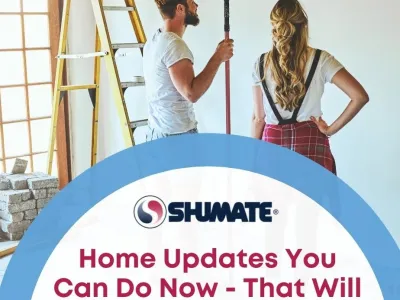 It's tax season, which also means it's tax refund time! Are you already dreaming of what you're going to use that extra money on? Many homeowners opt to put their tax refund into their homes to either update dated amenities and features or add or convert new spaces to meet their changing needs. If you're interested in updating or upgrading your home but don't want to throw that money into projects that won't do much for your home's value, here are three areas of your home where an upgrade will end up paying for itself.
Start Inside
Is your carpet stuck in the 70s? Are you noticing your home's color palette matches houses in those "old school" reruns on late-night TV? Make this the year you pull your home into the present! Colors that have had a consistently solid run the last few years are neutrals. Shades of white, beige, or gray allow you more design flexibility and will also brighten up even the most dimly lit room. When selling your home, potential buyers will be able to more easily envision making your home their own if the walls aren't screaming 80s hair band music at them.
Your home's flooring is another chance to make a drastic change to your home without breaking your back or the bank. If you have carpet in your home and it's past the decade mark, it's time to replace it. You can install carpet again, especially if you don't have pets in your home or appreciate the feel of soft carpet. However, if you plan to sell your home in the near future, it might be worth the effort to jump ship over to hardwood or vinyl flooring. This type of flooring brings a new level of sophistication to a floorplan, and it also doesn't hold onto stains, dust, or allergens like carpet can. Anything that improves your home's air quality is aces in our book!
Spruce Up the Outdoors
Do you spend a lot of time outdoors? If you do, giving your home's exterior some love will almost immediately pay off for you. Or maybe adding some outdoor interest to your home's lot will make you want to be outside more! Adding an outdoor eating and entertaining space is a universal win when it comes to boosting a house's value. Adding or extending a patio, repairing or installing a deck, and planting a backyard oasis with a mix of perennial and annual plants can dramatically revive the outdoor living space potential of your home.
If your neighborhood doesn't have a community swimming pool, there's no time like the present to dive in with both feet. (See what we did there?) With industry delays and backed-up scheduling, you may want to get in with a pool company as soon as possible. Depending on the size of your lot, you should consider installing a pool and hot tub combination, as these are more sought-after by buyers.
Add Something New

Everyone has spent more time in their homes since 2020 than many of us ever have. All that extra time within your four walls might have quickly brought to light the need for more space. With the Atlanta housing market still as aggressive as ever, it might be more feasible for you to find ways to add to your current home rather than find a new one.

One of the top home additions is a home office, which is very understandable! Working from home has its perks (we're looking at you, Zoom-meeting-pajama couture) but it's not the most enjoyable opportunity if you don't have a place to actually be able to get work done. Home offices can be added as simply as converting a closet or loft area in your home. You can also go big and build onto your home or purchase and convert a shed kit or ADU (accessory dwelling unit). This is a definite investment, but more and more buyers are actually seeking out and prioritizing a home having a dedicated office space, so if you want to get your money out of a home improvement, this is a good one to bet on.

If you've always hated that one random wall in your kitchen, or wished you could have your own home theater setup, don't be afraid to go all-in with your home improvement project. Getting rid of walls can open up a floor plan and allow foot traffic to flow better, help rooms to be better utilized, and make your house feel bigger even though you didn't technically add any square footage. If your home has a basement and it's only been used for storage, you could give your home the ultimate addition by finishing your basement (partially or fully). Imagine Friday night movie nights in the theater room, or giving your houseguests their own space to enjoy.

If you're adding to your home's square footage, you want to be sure that your HVAC system is able to keep everyone comfortable all year. Who can enjoy a new home gym if it's freezing in the basement in the winter? An easy home improvement choice (we know we're biased here!) is to update your home's HVAC system. If your system is older than fifteen years, or you've added a decent amount of square feet to your home's footprint, installing a new HVAC unit will help increase comfort levels and air quality within your home, keep your utility costs lower all year, and will be a huge selling feature to future buyers who don't want to have to upgrade the system when they move in.

You may know Shumate as an HVAC repair company, but did you know we're also an Atlanta handyman service? As you're dreaming of ways to make your house an even better fit for you, we would love to come alongside you and help you make sure every detail matches your home improvement vision! Contact us today for more information about our handyman services or to schedule an appointment with a Shumate Home Comfort Expert to help you decide if your home's HVAC system needs an upgrade. Call us now at 678-SHUMATE or schedule online.
Back to Blog Home