Green Cooling Units in Atlanta
Geothermal heating and air conditioning is an environmentally-friendly, safe, energy-saving method of heating and cooling your home.
Get Eco Friendly Today
How does geothermal heating & air conditioning work?
In the winter, a geothermal heat pump collects the Earth's natural heat through a series of pipes (a loop) installed below the surface of the ground. Fluid circulates through the loop and carries the heat to the house. Then an electrically driven compressor and a heat exchanger focus the Earth's energy and release it inside the home at a higher temperature. Ductwork distributes the heat to different rooms.
In summer, the process is reversed. The underground loop removes excess heat from the house and allows it to be absorbed by the Earth. The system cools your home in the same way that a refrigerator keeps your food cool - it draws heat from the inside, instead of blowing in cold air.
What are some of the benefits of green heating and cooling?
Geothermal units are highly efficient, saving you up to 60 percent on heating and cooling costs, in most cases.
Provide steady temperatures and great humidity control.
Last longer because they're not exposed to outdoor weather conditions, resulting in far lower replacement costs.
Have no flues or flames and no carbon monoxide.
They also feature a factory- sealed refrigerant circuit.
Shumate is experienced in central air conversions to green heating and cooling.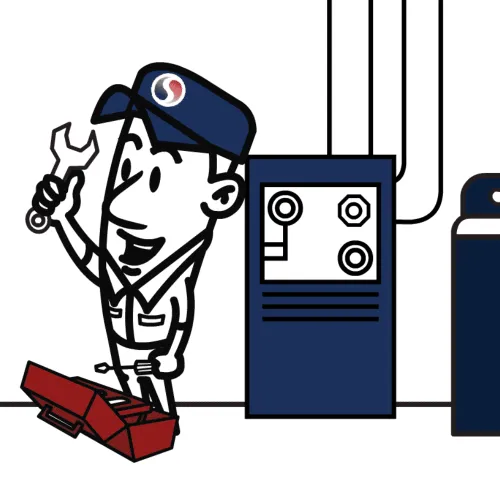 Preventative
Maintenance
Make sure to schedule your preventative maintenance. With a Shumate home maintenance plan, you'll lower your monthly utility bills by having a more efficient HVAC system.
A maintained system dramatically lengthens the life of your equipment, saving you thousands of dollars.
Shumate Comfort Customers enjoy pre-season preventive maintenance check-ups twice a year. They're also entitled to other benefits like priority service, special discounts and emergency AC repairs.
Advantages of Preventative Maintenance