Warning Signs That Your Air Conditioning Unit Needs Attention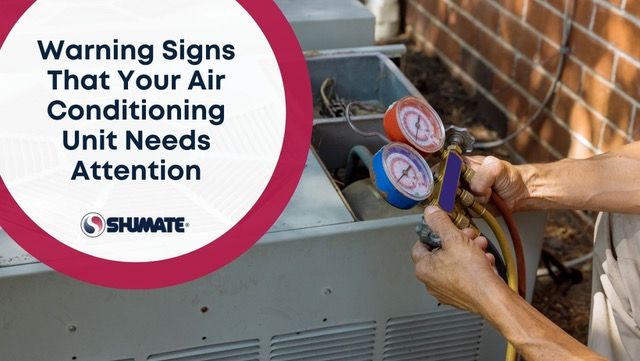 Anyone who lives in the South knows that having air conditioning in the spring and summer (and sometimes well into the fall) is non-negotiable. And when that air conditioning unit goes out, getting everything back in working order as quickly as possible because priority #1. Is there a way to avoid dealing with the hassle of a broken air conditioning unit?
We've got great news: there are things you can do to keep your home's unit running and cooling all scorching Georgia summer long! Your air conditioning unit will usually give you clues it needs some attention before completely dying, so here are a few things to keep an eye out for.
The fan isn't spinning smoothly
Were you one of the kids that were fascinated by the big fan whipping away inside the air conditioning unit? Maybe you even found some leaves or pine straw and dumped it on top to watch it blow around. (Please don't do that now!) Your air conditioning unit fan is an important part of what keeps everything running at the right temperature. If you think there's an issue with the fan, turn off the unit and try to spin the fan with a pencil or something long enough to reach and move through the grate. If you can't get the blade to spin easily, you likely need to either service or replace the motor that the fan is aiding.
You notice a bad odor in your home
There could be many culprits behind a bad, boggy smell in your home. If you are running your air conditioning and notice a weird smell, though, you have the first place you should be inspecting for the source of the odor. Air conditioning units have a drain pipe that helps eliminate excess moisture from the unit as it works. If that pipe gets clogged, all sorts of things can start collecting and growing inside, like mold, mildew, and other harmful allergens. If you've noticed a bad smell in your home, check your drain pipe and if it appears to be clogged, try to clear it yourself or call and make an appointment for Shumate's HVAC contractors.

Your breaker switch keeps tripping
A random breaker switch being thrown isn't anything to be alarmed by, but if you're having to go to your breaker box and correct your air conditioning unit's switch often, that's a problem. One of the warning signs that your air conditioning unit's compressor is failing is when its power draw fluctuates as it tries to compensate for its failing performance. While compressors are replaceable, this is one repair that may not be worth making. Schedule an appointment with Shumate, and our air conditioning repair technicians can help help you make an informed decision on whether replacing your compressor would be the best move or if you need to go ahead and just replace your air conditioning unit completely.


Shumate is ready to keep you and your loved ones cool and comfortable this summer. If you'd like to keep your air conditioning unit in tip-top shape and avoid repeated service calls and repairs, consider becoming a Shumate Signature Member! Call us now at 678-SHUMATE or schedule online to learn more about this cost-effective maintenance plan and how it can help save you money.

Back to Blog Home