Upgrade Your Bathroom With These 5 Lighting Ideas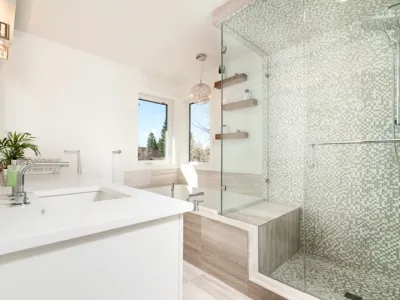 When it comes to home decorating, most of us would probably allocate a huge chunk of our time and budget on the living room and the bedroom rather than the bathroom, where function is more important than form. As long as the toilet flushes properly and there's hot water coming out of the tap 24/7, then everything's a-okay, right?
Not so fast! There is a lot of design potential in the bathroom. Besides, taking a luxurious bath or even just a long, hot shower can be a powerful stress-reliever. You can enhance this relaxing experience simply by upgrading your bathroom lighting.
Enhanced Natural Light
There's a certain kind of charm that you can achieve only with natural light. The warm, buttery rays of sunshine pouring into any room—yes, even the bathroom—somehow gives both a cheerful and peaceful effect. But while barely decorated windows can maximize the amount of sunlight streaming in, they also provide very little privacy. Fix this problem by adding bathroom window shades in sheer or light-colored fabrics that allow light to filter through. This can transform the harsh glare of the sun into a more welcoming glow. Cellular shades are also a good idea since they can help maintain the right temperature in the room, which makes bathing and showering a more pleasant experience overall.
Chandeliers
Quickly add a touch of luxury to your bathroom by installing a chandelier. It can either be your main source of light, an accent or area lighting, perhaps above the bathtub or the vanity mirror. There are also various designs of chandeliers that can match any style of bathroom, from elaborate Baroque to clean-cut contemporary. One thing to remember about using chandeliers is that they have to be the right size and installed at the correct height so they don't overwhelm the entire room.
Tube Sconces
The right amount of light is important in any bathroom—just ask any makeup enthusiast who carefully applies cosmetics every single day. Installing tube sconces on either side of a vanity mirror can help provide sufficient and uniform illumination. You can also use these rather sleek-looking fixtures for a soft-looking glow. Just select a style with a frosted shade or cover and a warm yellow bulb instead of a cool white light. You can also install dimmer switches to customize the brightness, as needed.
Colored Shades
Give your bathroom a quick, fun update by adding a pop of color using colored shades or lighting covers for your sconces, domed overhead lights, floor or table lamps or hanging lanterns. What's even better is that this is a relatively easy project that you can do yourself, even without any prior experience in crafting. You can use either paint or fabric for this, but remember to use light colors so you don't end up with a too-dim bathroom.
Recessed Lighting
Using recessed lighting in the bathroom ceiling is a good way to provide general illumination that is at the same time flattering to your facial features—just as long as the light isn't pointing directly down on your head. You should also avoid installing too many recessed lights, as this can make your bathroom ceiling look like a pockmarked face or a sea of black holes. One or two lights in each corner will work just fine, especially if you have a smaller space. You can also install different switches so that only one or two lights turn on at a time, which creates the appropriate atmosphere for taking nighttime soaks in the tub.
We spend quite a lot of time in the bathroom grooming and pampering ourselves, so it's only reasonable to make it a place that's comfortable at the very least. The next time you're thinking about updating the look of your home, don't forget to include this important space in your list of must-upgrades. Remember, your home and its decor is a reflection of yourself and your personality, and this extends to every corner of the house—even the bathroom.
Written by Guest Author for The Healthy Moms Magazine and legally licensed through the Matcha publisher network. Please direct all licensing questions to legal@getmatcha.com.
So when you're ready to tackle your next home project,
let us know how we can help
! Our master
electricians
,
handymen
, and
plumbers
have got you covered.
Back to Blog Home