Prepare Your Deck for BBQ and Picnic Season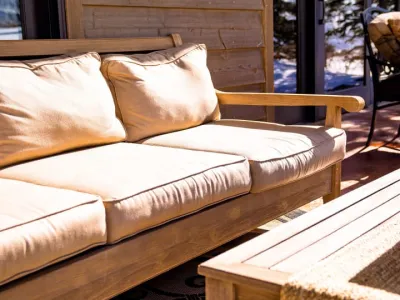 Get your deck ready to host again with the right outdoor furniture!
Not sure what kind of outdoor furniture to get?
Outdoor furniture can complete a patio by giving you a place to gather with family and friends. They can also be used in garden areas for resting spots after a long day of work.
The problem that many people deal with is deciding what kind of furniture to get. It can be difficult to choose because every piece of furniture is made with different material for different climates.
Continue reading to learn about the best material for outdoor furniture.
What Are You Looking For?
When deciding what kind of furniture to get, you need to figure out what exactly you're getting it for. Decide where you'll be putting their furniture and what type of style you'd like.
If you're going for old-fashioned patio design, you'll want to invest in wooden furniture. If you want a modern design, you can opt for metallic furniture.
You also need to decide how much money you'd like to spend. Having a budget will narrow down your choices and prevent you from spending too much.
Keep in mind that by spending more money, you can get furniture that will last much longer. You don't have to break the bank, but it's something to consider.
Factors to Consider
There are many factors that should be considered when buying lawn furniture. Depending on where you live can factor into your choices because some furniture lasts longer in certain areas.
Weather
Weather will play a big role when determining what type of furniture to get because you need furniture that is resistant to it. If it rains a lot in your region, you will need water-resistant furniture.
Mold
When you live in a wet and humid environment, mold can become a major problem. Mold can develop easily on wood because it's porous and soaks up moisture.
It's important to waterproof wooden furniture so you can avoid mold and the health issues that it can bring, such as respiratory problems.
Rust
While metal isn't as vulnerable to mold as wood is, it's highly vulnerable to rust. Metal furniture can start rusting when it's exposed to water for a long time. This will start corroding the metal, causing it to break apart.
You can rust-proof metal furniture by applying a primer to the surface. This will form a solid coating that will protect it against the elements.
Best Material for Outdoor Furniture
The best materials that backyard furniture is made out of is wood, metal, and plastic.
Wood
Wood is a material that has been used to make furniture for as long as humans have existed. Wood is easy to work with and provides a beautiful appearance that can be used anywhere.
Teak is a type of wood that is commonly used for outdoor furniture because it's durable and naturally repels water. It's very easy to maintain because it already contains a high amount of oil. The oil repels insects and protects it from decay.
White Oak offers a highly water-resistant wood. This wood is usually used to build boats because it repels water with ease. The downside is that is doesn't contain much oil, so durability can be a problem if it isn't sealed.
Metal
Metal is a very strong and long-lasting material that's often used for outdoor tables and chairs that will sit in the open. These are great for gardens because they don't attract any insects to them.
Stainless steel is a common form of metal for outdoor furniture. Steel easily gets hot in the sun, but it can stand through extreme temperatures. Its weight prevents it from tipping over, and its surface is very easy to clean.
Aluminum is the most popular metal used because it's affordable and durable. It's not as strong as steel, but it also never rusts. Aluminum is very lightweight, so it can be blown over if winds are too strong.
Plastic
Plastic furniture has been popular for quite some time because they are inexpensive and are usually more decorative. Plastic can be easily colored and is also easy to maintain.
Synthetic wicker is made from a synthetic resin that is stronger than the natural alternatives. Natural wicker is vulnerable to weather whereas synthetic wicker is waterproof and eco-friendly.
Recycled plastic is eco-friendly and allows people to own good furniture without breaking the bank. This kind of furniture is extremely durable but can be blown over with the wind. It doesn't require much maintenance and doesn't fade.
Fabrics
Fabric is often combined with furniture to give people something comfortable to sit on. Rather than sitting on a hard surface, a person can sit on a cushion or use a pillow.
Acrylic is resistant to weather and damage from use. It is also waterproof, but it's still porous so it can stay cool. Acrylic is often used for cushions, pillows, and umbrellas.
Polyester is similar to acrylic in that it's weather-resistant, but it can be coated with acrylic for added durability. It's very durable against tears and can dry quickly, but it's vulnerable to fading.
Buy the Best Outdoor Furniture
There are many furniture options for homeowners to choose from. Choosing the right furniture will ensure that yours last for a long time and maintain their great appearances.
Choose the best material for outdoor furniture based on where you live and what you plan to do with them.
Written by Cascia Talbert for The Healthy Moms Magazine and legally licensed through the Matcha publisher network. Please direct all licensing questions to legal@getmatcha.com.
For help setting up the deck or other home project, find a handyman or reach out through our main line at (678) 748-6283!
Back to Blog Home