How to Prepare For Allergy Season Now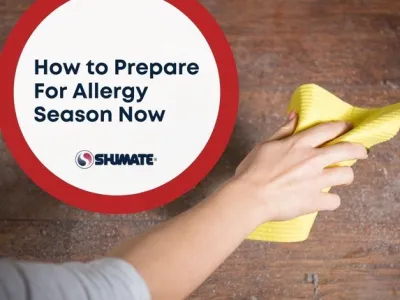 Allergy sufferers across the Southeast know when they can expect to start feeling pollen season approaching, and it can make spring almost unbearable. Those of us with allergies know how important it is to have excellent air quality inside, so as we all look forward to spring, Shumate would like to help all Georgia and Tennessee residents prepare their homes for allergy season.
Shumate is certified by the International Indoor Air Quality Commission, an independent certification body for professionals in the indoor air quality field. This certification allows us to not only evaluate and identify problems correctly, but also provide you with expert opinions and next steps on how to improve and maintain optimal air quality inside your home year-round.
Ready to take a stand against allergies this spring? Here are three areas of your home you can address and prepare for allergy season:
Cleaning Your HVAC System (Including Ducts)
Have you been heating your home frequently these past few cold weeks? We sometimes forget about our HVAC units when we aren't pumping the air conditioning in that Georgia heat. But your home's HVAC system is constantly at work to ensure your family can enjoy the best comfort level needed. If you aren't part of a regular maintenance program like Shumate's Signature Member program, it's up to you to remember to perform routine maintenance on your home's HVAC system. One of the biggest factors that impact air quality (and one of the easiest to keep up) is the filter in your HVAC unit. Each unit is different, but if you change your air filter every six months, your home's air will maintain optimum indoor air quality.
After your home's air pushes through the HVAC filter, it heads through your home's ductwork before arriving at each room. If your air encounters mold, dust, or allergen build up in the ducts, you'll be breathing that in and aggravating any indoor allergies you or your loved ones may have. Investing in yearly professional duct cleaning can have a noticeable impact on your indoor air quality.
Once your filter is fresh and your ducts are clean, you can support all that hard work with air filtration systems and humidifiers and dehumidifiers. Shumate is happy to evaluate your home's air quality and offer recommendations on air filtration units or whole-home options, as well as if there are certain rooms or areas of your home that could benefit from more or less humidity.
Cleaning Your House
If you suffer from dust, pollen, or dander allergies, you already know it's imperative you keep the sources of those allergens out of your home. Spring cleaning isn't just a term-there's a reason everyone wants to clean this time of year! When it's colder outside, everyone stays inside, which means dust and dander are kicked up and carried throughout the home more. As the weather warms up in spring, take advantage of the break from being a winter hermit and deep clean your home. Once you do a thorough cleaning, stick to a regular (weekly, if possible!) schedule of dusting surfaces, sweeping and disinfecting floors, and cleaning carpets and upholstery as needed.
For anyone with a particular sensitivity to mold and dust, indoor plants and excessive knick knacks may need to be given up. Even though there are some plants that promise to help improve your home's air quality, houseplants are an open invitation to dust and mold. If you have nearly every surface of your home's interior taken up by a decorative object, you're bound to run out of steam eventually and not keep them properly dusted. This means that all the dust and pollen that gets into your home will settle on these objects and build up to a sizeable source of allergy irritation.
The last—and arguably biggest—area of your home that you should stay on top of (pun somewhat intended) is carpet and upholstery. Dust, dirt, and allergens all fall down and easily set up their home in your house's carpets, drapes, and furniture. Regular vacuuming and spot cleaning will help tremendously, but you should also schedule a professional cleaning at least once a year.
Cleaning The Exterior of Your Home
Allowing fresh air into your home is a great way to help air quality, but those with outdoor allergies may be fearful of letting those outside irritants in. While this is an understandable hesitation, it's one that can be remedied with regular outdoor maintenance. Keep your lawn cut and treat weeds regularly. If you enjoy decorating your home's exterior but suffer from pollen allergies, ask your local nursery which plant varieties will give you the look you want without causing you to suffer every time you open the door.
Make it a habit to walk around your home regularly (maybe make it a seasonal thing!) and check for signs of wear and tear or mold or mildew build up. Mold and mildew are an easily detected and dealt-with problem. Damaged siding, trim, and roofing could also be allowing pests into your home's attic or basement. Pests like rodents and insects like roaches can carry harmful bacteria and other allergens and plague you with allergies and illness that can be tricky to pinpoint.
Allergy season may be around the corner, but by following these tips, you can keep your home's indoor air quality clean, clear, and enjoyable. If you'd like some help identifying areas of your home that could be damaging your air quality, Shumate is here to help! Call us now at 678-SHUMATE or schedule online.
Back to Blog Home