6 Things You Need to Fix In Your Home NOW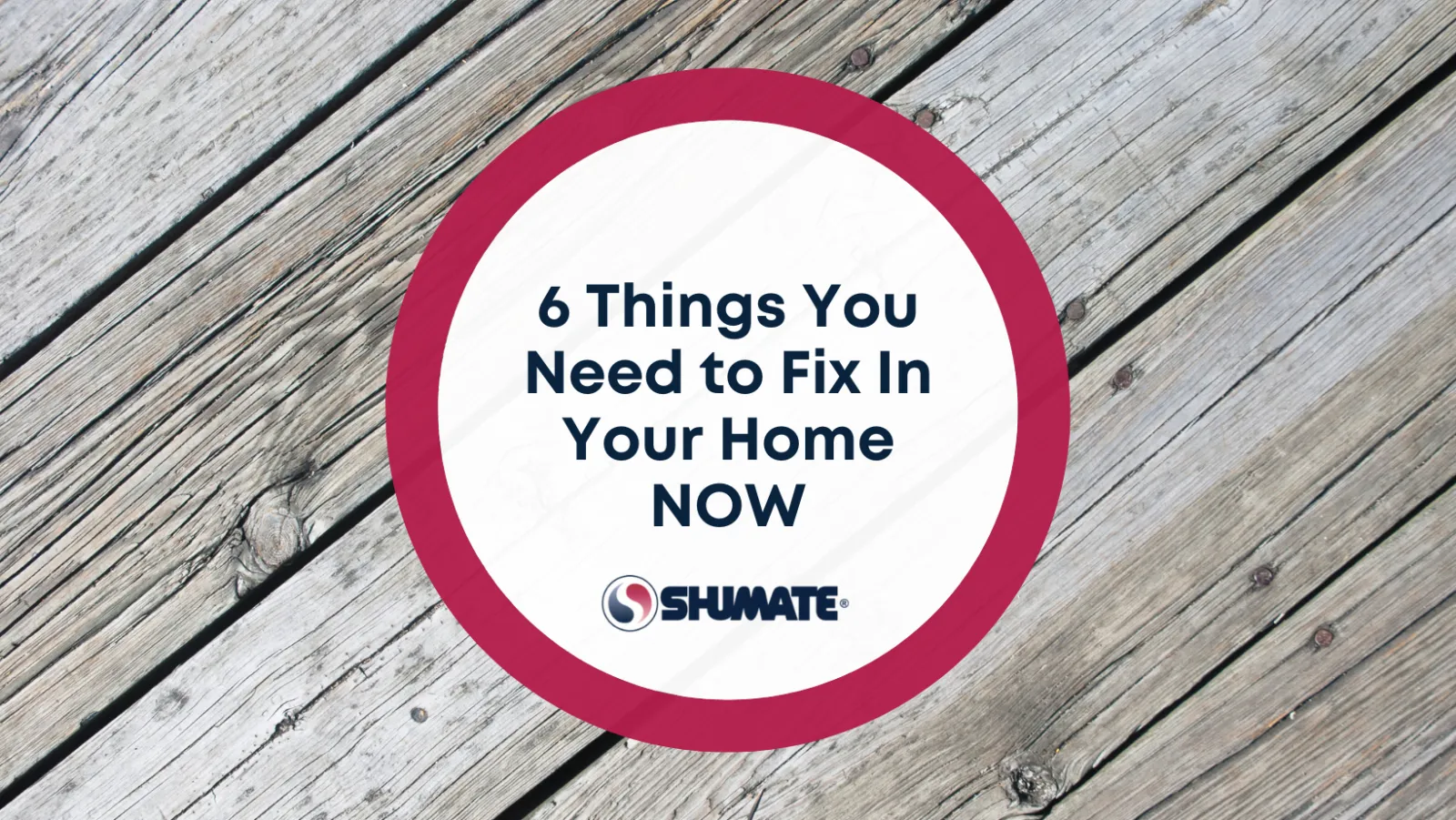 Fall is almost here, and whenever a season changes, it's a good idea to take some time to assess how your home is doing. Did you recently move, maybe into an older home? Have you started to notice more wear and tear around the house, or been surprised by some higher utility bills? Whether you're planning to sell your home soon or just want to make sure your home stays in shape, now is a great time to address things in your home. No more excuses!
So where should you start? We compiled a list of six common home updates you should do ASAP, especially if you're starting to notice problems.
Windows
Windows are one of the first issues homeowners will notice. They are major players in your home's comfort and style, and if they aren't performing as they should, your home's efficiency and appeal will suffer. Many manufacturers recommend replacing your windows every 15-20 years. If you have lived in your home for that long, or you've recently moved into an older home, you should look into replacing your windows. It is an investment, for sure, but it's one that will pay for itself. Your energy bills will improve, your comfort levels will regulate, and your home's value will increase.
Old Electrical Wiring
If you live in an older home, you've likely run into some inconveniences with its electrical wiring, requiring you to take electrical safety precautions. Maybe your fuses trip frequently, or some appliances or electronics haven't worked properly or needed special wiring fixes done. Updating old wiring in your home isn't just a convenience—it could save your life. Old, faulty wiring can lead to surges and electrical fires, something homeowners want to avoid at all costs. Shumate offers electrician services that can address any wiring issue in your home, from updating your outlets to overhauling your entire wiring system. Give us a call today for more information and to set up a consultation!
Aging Deck or Fencing
Was your home's deck a big selling feature for you? Did you look outside and see that fenced in backyard and immediately want to sign on the dotted line? Outdoor spaces are amazing to have, but just like your home's interior, they need to be maintained and repaired as needed. If you've noticed splitting, curling, or moving pieces of your decking, it's time to repair them. If your fence is sagging, leaning, warped, or missing pieces, it's time to repair it. Shumate's handyman service is a great place to start looking for help with these outdoor projects! Click here for more information.
Old or Damaged Roof
Georgia summers are notorious for bringing thunderstorms that pelt everything with hail, and the biggest part of your home to suffer from that is your roof. Like your windows, a roof won't last forever and should be replaced every 15-20 years. That timeline may be moved up some if your home has received any storm damage from tree limbs or if you've noticed missing shingles or sagging. Also like your home's windows, replacing your roof will add value to your home, and you may be able to get the cost mostly or totally covered through your home insurance policy.
Old Appliances
Are your kitchen appliances original to your house? Have you found yourself having to run your dryer a couple of times in order to get everything dry? While older appliances can appear to be durable and in it for the long haul, they could also be drawing way more power than appliances should be and are therefore costing you more money each month. Modern appliances have been built with efficiency in mind, which will be a kinder addition to your home and help keep everyone more comfortable and able to perform daily tasks and chores with ease.
Failing or Old HVAC System
HVAC systems, on average, will operate smoothly for 15 years before they start to show signs of failing. (If you're interested in what those warning signs of a failing HVAC system are, we recently wrote this blog about it!) Even though we are heading into cooler weather and you aren't using your air conditioning as much, you shouldn't ignore an HVAC system that's failing. There is a chance that repairs are all that's needed to keep your HVAC running for a few more years, but if you're unsure of how old your HVAC system is or if it uses R22 refrigerant, it's time to invest in a whole new system. And one last time: it's an investment that will add value to your home!
If your home could use some attention, including HVAC services in Dacula, but you aren't sure where to even start, the experts at Shumate are ready to help! You can schedule a consultation visit with us and one of our certified technicians, comfort specialists, or an experienced handyman will come out to help you draw up a game plan to get your home in the best shape of its life. Call us today at 678-SHUMATE or schedule online.
Back to Blog Home