4 Clever Ways to Decrease Home's Humidity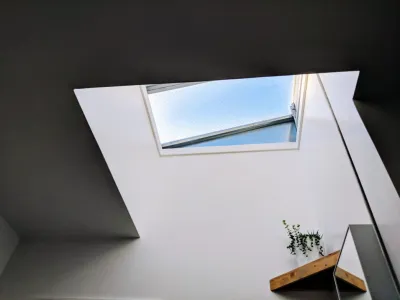 You recognize the signs of humidity when you feel them: frizzy hair, sticky skin, and thick air. However, you might not associate humidity with problems like allergies and asthma, peeling wallpaper and paint, mold and damage to your belongings, furnishings, and home's structure. Luckily, you don't need a fancy piece of equipment to determine the humidity level causing this damage; all you need is a thermometer with an integrated hygrometer. Ideally, you want your humidity level to be somewhere between 30 and 50 percent relative humidity. If your thermometer is showing that it's higher than that, these four smart ways can help you get that number down.
Get a Dehumidifier
This one is pretty straightforward. There are three types of dehumidifiers, each suited to different conditions. Desiccants use moisture-absorbent materials (like those little silica packets you find in electronics packaging) to wick water out of the air. This type of dehumidifier is best for low-temperature spaces, like a damp basement. In warmer temperatures, choose a mechanical dehumidifier that uses a coil or cooling plate, which collects excess moisture in a tank. Electric dehumidifiers are best for small spaces, like RVs or bedrooms, where noise is an issue.
Go With the Flow
Another easy way to lower the relative humidity in your home is to increase airflow. Open windows and turn on exhaust fans to create a cross-breeze. Get in the habit of turning exhaust fans on when you do things that generate moisture, such as cooking and showering. Make sure kitchen and bathroom fans vent to the outside. Otherwise, you're just moving moist air to another part of the house. If you don't have good ventilation, consider installing an attic fan.
Put Nature Where It Belongs
If you have house plants, they are likely contributing to your humidity woes. Plants release water vapor into the air, especially if they're the kinds of plants that need a lot of water themselves. Consider moving plants outdoors during seasons when indoor humidity is an issue. If plants are a key component of your decor, opt for artificial or low-water plants. Find a place to stack firewood outside as well, rather than keeping it indoors.
Tackle the Honey-Do List
There are several home-improvement projects that double as solutions to your humidity problems. If you've been meaning to clean and/or replace your gutters, rip out the carpet in favor of hardwood or tile, provide emergency HVAC repairs or have your doors and windows checked for leaks, do it sooner rather than later. These basic maintenance tasks will help keep your home dry and comfortable year-round.
Taking steps to control the humidity in your home is a good idea for so many reasons. You and your family will be healthier and more comfortable. You'll save yourself the hassle and expense of dealing with an unsightly and potentially dangerous mold problem. You'll even save money on your heating bill. So next time things feel a little sticky, use these tips to tackle the problem once and for all.
Written by Guest Author for The Healthy Moms Magazine and legally licensed through the Matcha publisher network. Please direct all licensing questions to legal@getmatcha.com.
Don't hesitate to reach out by
requesting a service online
or calling us at 678-SHUMATE. Your certified Shumate technician and Shumate comfort advisor will provide expert service and advice, from total system design to unit replacement. When it's too hot to wait, call Shumate! Atlanta's ultimate
handyman repair service
.
Back to Blog Home