How to Keep Your Car Clean with Kids: A Simple Guide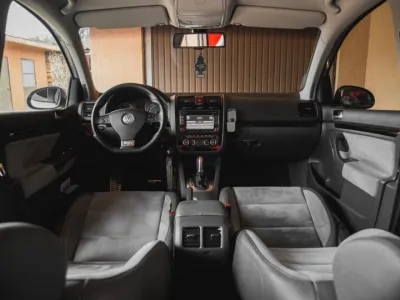 It may seem like an impossible task to keep your car clean when you have kids. From spilled juice boxes to more crumbs than you can count, children have a way of making a mess out of any space. There are some tips and tricks you can follow, though, to minimize that mess. Here's how to keep your car clean with kids that will make every passenger (and you) a happy camper.
Clean up spills as soon as they happen When it comes to spills, it's less about if they'll happen and more a matter of when. While it can be a pain to clean them up after a long day, it's important to nip those messes in the bud. Clean them up as soon as you possibly can; that way, unsavory smells and stains won't stick around for the long haul. This can be hard with kids, as they're often ready to jump right out of the car and into the next fun activity, but make sure it's a priority.
Regular vacuuming is a must For any family on the go, you know eating and spending time in the car practically go hand in hand. Whether your little ones eat some French fries or have a full-out meal, a mess is likely to happen. Beyond crumbs just being an annoyance, they can even usher in some rather nasty critters. All those little bits of debris can quickly add up, so be sure to vacuum your car regularly before it becomes a full-blown problem.
Use a trash can With the amount of wrappers, food scraps, and garbage that accumulates in a car, it only makes sense to put a trash can in your vehicle. If you don't have one already, implement a trash can, garbage bag, or another kind of receptacle your kids can throw their trash in. It will help bring some order to your kid's car routine, and it will make clean up much easier. This way, you don't need to haul a garbage bag out to your car every week or two, and cleanup can happen easily every day.
Wipe down surfaces regularly An essential trick on how to keep your car clean with kids is to give any and all surfaces a regular wipe down. There's nothing more uncomfortable than sticky seats and smudgy windows, so give them a regular once over. Use wet cloths to clean and a microfiber towel;to dry. It will make your driving experience much more pleasant.
Use car cleanup as a learning opportunity If you want your child to develop better cleaning habits, the car is a great place to start. Rather than letting the mess happen and just cleaning it up yourself, take the extra time to teach your kids about proper cleanup. They won't do it every time, but something as simple as reinforcing that they put trash in the bin will help teach them the importance of cleaning up after themselves. It's also important to establish good cleaning habits young; that way, it's much more likely to become a good habit they keep through adulthood.
Written by LouAnn Moss for The Healthy Moms Magazine and legally licensed through the Matcha publisher network. Please direct all licensing questions to legal@getmatcha.com.
While most of us don't prioritize car cleanliness (especially after kids), you wouldn't dream of letting years go by before changing the oil in your vehicle. Regular preventive maintenance of your
HVAC system in Norcross
is just as crucial. The U.S. Department of Energy and the U.S. Environmental Protection Agency recommend annual pre-season preventive maintenance check-ups performed by a professional contractor. Give us a call at 678-SHUMATE or
request service online
24/7, to make sure your system is taken care of this season.
Back to Blog Home