Fun Home Improvement Ideas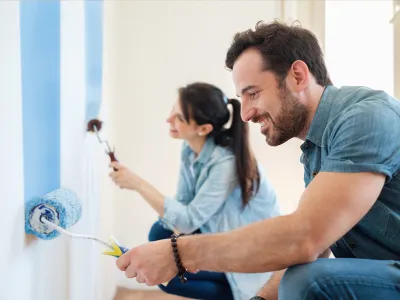 Looking for some fun new house ideas while doing a little home improvement? You should consider throwing a painting party! With lower humidity and no warm sunshine calling you outside, the winter is a great time to paint the interior of your home. Besides, you've been meaning to cover up that questionable shade of yellow in the hallway for years, so why not make it fun? All you need are a few friends, a fresh new paint color (you can't go wrong with popular earth tones and neutrals!), the necessary painting tools, good tunes, and perhaps a quick tutorial for the less artistically inclined.
When you start painting, make sure the temperature in the house stays above 50 degrees. Ideally, the temperature will be above 60 degrees. Humidity and temperature are crucial to a well-finished product. If the air is too humid, the paint will have difficulty drying due to the excess water particles in the air. While if the temperature is too hot or too cold, the paint will not adhere to the walls as well and you'll have longer drying times. Running the heater before and after your painting party is a good way to insure the walls stay at the proper temperature. Additionally, make sure that your home is properly ventilated. Though you're probably going to have the heater running, make sure you still crack the windows or use an exhaust fan for ventilation. Give us a ring if your heater isn't working up to par. Our furnace repair contractors can get you back up and running fast.
A painting party with friends is a great way to bring people together, do a home improvement project in the slower months, and burn off some energy indoors! If you find anything out of your control, our handyman contractors can be of great assistance.
Back to Blog Home