Best Kid-Friendly Recipes for a Rainy Day
Spring is here and with it comes plenty of rainy days. If you have kids, rainy days often mean boredom. If you're looking for ways to entertain the little ones in your house on days when the weather report says, "stay inside," why not have a party in the kitchen? Most kids enjoy helping in the kitchen, but they don't just want the small jobs. Kids love to get their hands dirty with flour and sugar. They want control of the mixing spoon—fun for them but not so much for the parents who get to clean up the mess. Here are a few of the best kid-friendly recipes you can enjoy making with the kids. You'll all have so much fun you won't want the rain to go away.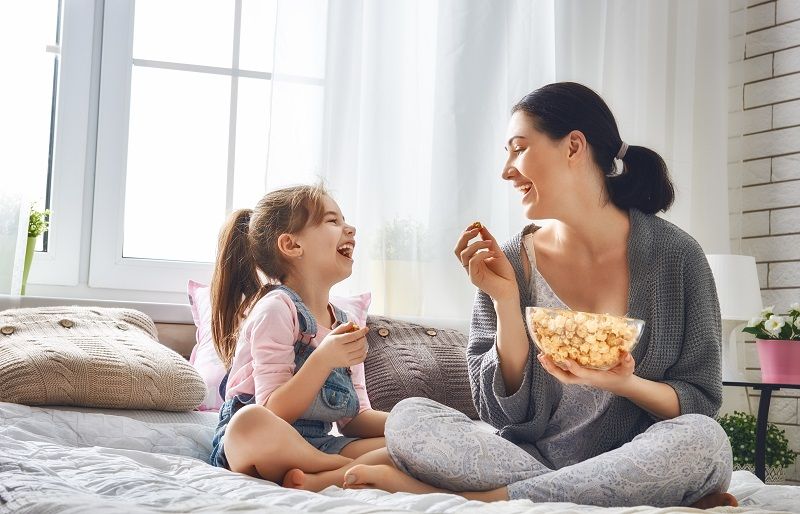 The Many Flavors of Popcorn
What kid doesn't like popcorn? It's standard Saturday night at the movies fare but it's also a great go-to for a rainy afternoon. Unlike movie theater popcorn, this recipe uses mostly healthy ingredients. Before popping the popcorn kernels, make the seasoning. You can keep it uncomplicated and limit seasoning choices to only one. Taco seasoning is usually popular with many kids. You can make your own or buy the bulk taco seasoning found in the spice aisle at your local grocery store. If you decide on two flavors, offer one sweet and one savory. For the sweet popcorn flavor, try this cinnamon sugar seasoning. Whisk together 8 tablespoons brown sugar, 4 teaspoons ground cinnamon, and 1 ½ teaspoons salt, and put in a plastic container.
To make the popcorn, heat 1 teaspoon of olive oil in a large pot. Melt 3 tablespoons unsalted butter and set aside. Add ½ cup popcorn kernels to the hot oil and pop. Pour the melted butter over the hot popcorn. Add your seasoning and shake to coat each kernel.
Fried Peanut Butter and Banana Sandwiches
This sandwich was a favorite of the famous crooner, Elvis Presley. The ingredients are simple:
Bread
Peanut Butter
1 banana, sliced or mashed, for each sandwich
Toast the bread first, then spread butter on one side of each piece. Let the kids spread the peanut butter and the banana on their own sandwich. Then, you fry them up in the pan! It's simple and fun.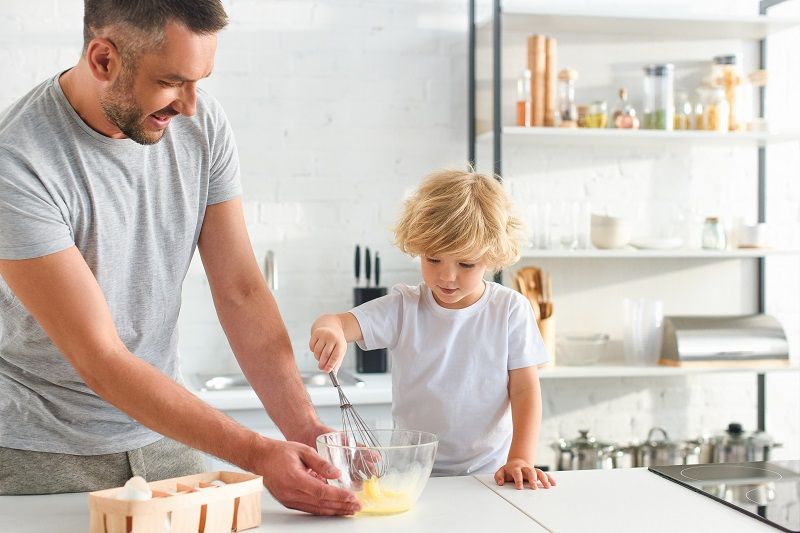 Tacos for Breakfast
You've heard of breakfast burritos, so why not breakfast tacos? This is so simple it doesn't need a recipe, but we'll get you started with the main ingredients:
Hard taco shells or flour tortillas (not the big burrito size)
6 eggs
Taco seasoning
Let the younger kids shake the seasoning in the eggs and beat with a whisk. Let the older kids help scramble the eggs in the pan. Set out your choice of toppings Most kids love shredded cheese. Yours might love salsa, lettuce, and tomato too. Let them fill their own tacos and enjoy. Serve with a side of toaster hash browns and you have a complete meal that the kids prepared.
We hope you enjoy making rainy day in the kitchen memories with the kids. Who knows, maybe you'll discover you have an aspiring chef in the family.
As a family-oriented business, we at Shumate Mechanical understand the importance of family activities. When it's a rainy day and you can't make it out of the home, cooking with your kids in the family kitchen is a great way to beat the rainy-day boredom. We want your family to stay comfortable when you're stuck indoors, no matter the season. Contact us today to see how our technicians can help you with HVAC system maintenance, repairs, or replacement.
Back to Blog Home