4 Ways to Get Your House Ready For Holiday Guests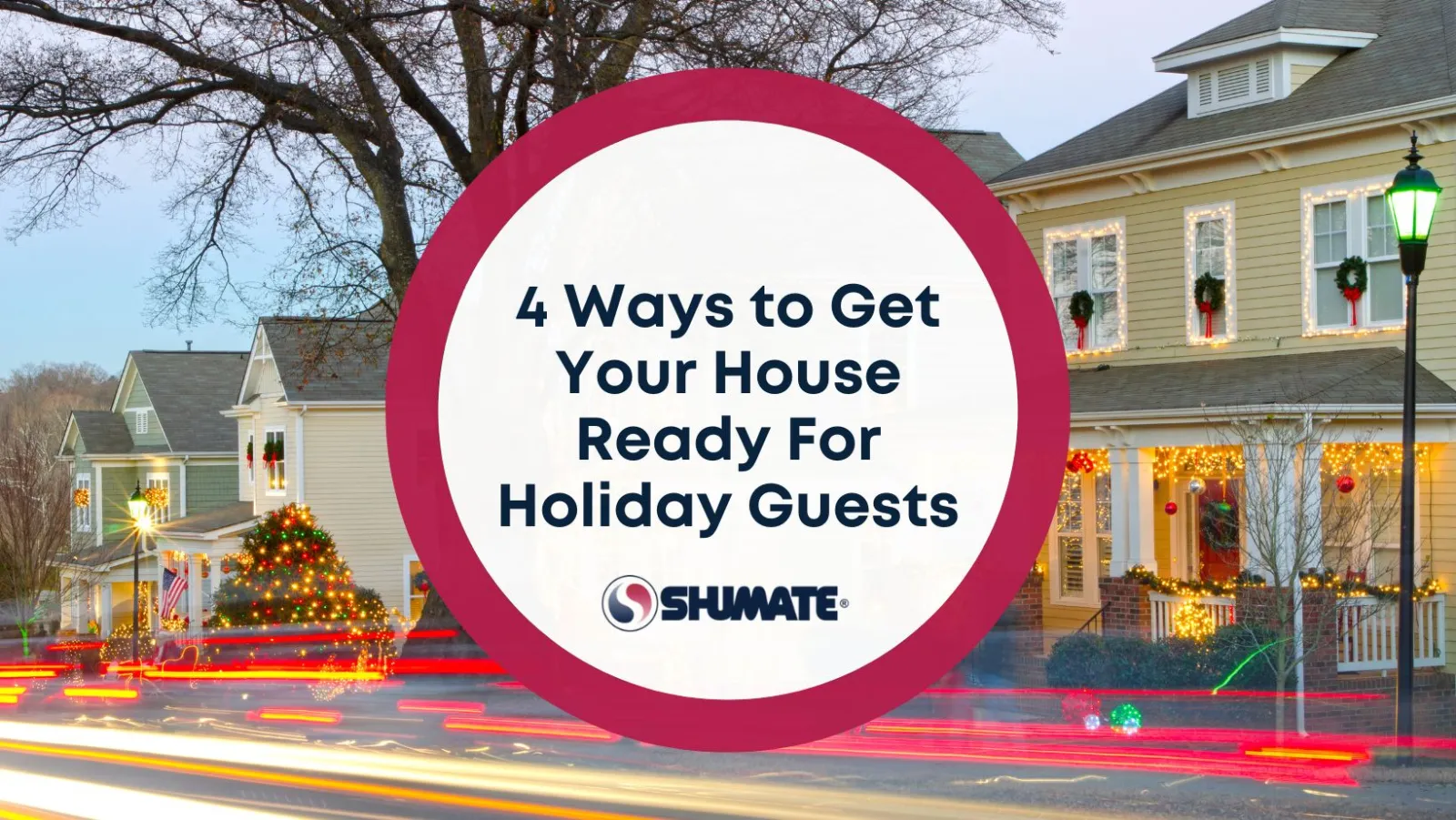 Do you have guests coming to stay with you this holiday season? Before that doorbell rings, make sure your home is ready to keep the holidays merry and bright for everyone! This month, we highlighted four ways you can ensure that your guests have a good time and that you have a chance to relax and truly enjoy the season.
Wrap Up Those "Honey-do" Lists
We all have that lingering list of household annoyances that we swear we will get to "next weekend"...and then still have hanging over our heads months later. As guests' arrival nears, now is the time to buckle down and get through all those honey-do projects, while also taking electrical safety precautions. Bathrooms seem to be a popular place for annoying maintenance tasks to pile up, like a leaky dripping faucet, a toilet that likes to keep running, or a clogged shower drain that turns even the fastest shower into a bathtub session. You want guests to feel comfortable in your home, and you also want to keep your utility bills as low as possible.
Clean Everything!
Even if you're regularly cleaning your home, there will always be dust, allergens, and potential bacteria lingering in places you either can't see or assume has stayed clean. Your holiday guests may be sensitive to irritants that you and your family aren't, so it's best to play it safe and arrange for deep cleaning for your home's surfaces. Most professional carpet cleaning services also offer upholstery cleaning and even tile and grout deep cleans.
Another common place for all things dust, mold, and bacteria to fester is your home's air ducts. Think about all of the air that has been cycled through your HVAC system throughout the year. Your air filter will catch some of the gross things floating in the air, but the ductwork in your home is the main highway for airflow in your home, which means it's bound to collect unwanted particles along the way. If you're worried about the state of your home's ductwork, Shumate is certified by the International Indoor Air Quality Commission, an independent certification body for professionals in the indoor air quality field. Give us a call today and we can help you feel confident in the air you and your guests are breathing this holiday season!
Minor Home Improvements to Keep Everyone Comfortable
Have you noticed more cool air in your home this fall? Does your guest bedroom look like it hasn't left the 90s? As you're getting your home ready to host family celebrations this month and next month, take the time to inspect certain issues in your home that may keep you and your guests from feeling truly comfortable.
If you've noticed drafts in areas of your house or your heat seems to be running more than you think it should be, check the seals around your exterior doors and windows. Spending an afternoon resealing doors and windows in your home will be time well spent when your utility costs drop and your home maintains an ideal temperature.
Squeaky doors around your home might be something you're used to, but houseguests may feel a bit embarrassed when they go to the bathroom in the middle of the night and the entire house knows because of the creaking bathroom door hinges. Another thing that might be off putting to guests' comfort: that dated wallpaper or paint color scheme in your home's guest room. Dedicate a weekend to channeling your inner Joanna Gaines and bring your guest room into modern times with a fresh coat of paint in a calming neutral color. Give those sticking or creaking doors some attention, too. If you feel like you've got too much going on with the holidays to be able to dedicate the time these projects need, don't forget that Shumate offers handyman services! Give us a call today to see what we can help take off your plate.
Make Sure You Don't Have House Emergencies With Guests
If emergency situations were predictable, they wouldn't exist! But it's always wise to give potential emergencies as little chance of starting as possible. Your home is full of potential emergency situations that could ruin the holidays for you and your houseguests. Appliances tend to go out at the worst times, your home's heat may stop running during a Georgia cold snap, and rare winter weather might knock out power to your home in an instant. Before your first guest arrives this holiday season, thoroughly inspect each of your home's major appliances and see if you can spot any wear-and-tear that could be fixed before it's too late. Consider purchasing a back-up power generator for your home, in case of any winter weather. (Those come in handy during Georgia summer storms, too!)
Your home's HVAC system is the quickest thing you can cross off your checklist. Why? Because Shumate has you covered with our Shumate Signature Member program. Shumate Signature Members automatically receive pre-season check-ups twice a year. During your check-up, your system will be professionally inspected, cleaned and tuned-up. You'll enjoy better energy efficiency, better home comfort, and lower utility bills. What more could you ask for?

As you prepare to welcome holiday guests to your home this season, the experts at Shumate are ready to help! You can schedule a consultation visit with us and one of our certified technicians, comfort specialists, or an experienced handyman will come out to help you draw up a game plan to get your home in the best shape of its life. Call us today at 678-SHUMATE or schedule online.

Back to Blog Home