HVAC Replacement

Are you experiencing warning signs your HVAC isn't working like it used to? It may be time for a replacement, even if your machine is under 20 years old.

Schedule Service Online
Need to replace your
HVAC?

Yes - we can absolutely help you.
Just give us a bit of information, and we will get you taken care of immediately.

A few words to describe what you are looking for, a perhaps a picture if you have one to share – and we'll be off to the races, and on our way!

Schedule your service today by filling out the form or giving us a call at 678-SHUMATE
Open Form
Do I need to replace my under 20 year old HVAC?

Picture this, you've just endured a day in the Atlanta, Georgia heat to find your home just as hot. A nonfunctioning HVAC system in the middle of summer causes immediate concern. Avoid this dilemma by learning the 5 signs for HVAC replacement.
An HVAC system can last 15 to 20 years if properly maintained. HVAC systems lose efficiency over time and most concerns arise before a complete breakdown. Frequent repairs on older HVAC systems will cost more than upgrading to a better system. The Department of Energy recommends homeowners replace their residential HVAC system every 10 to 15 years. If the repairs cost more than half the cost of a new AC system, it's smarter to invest in a new unit.

Schedule Service Online
5 Signs You Need HVAC System Replacement
1. Leaking Water
Atlanta residents rely on air conditioning for at least 7 months out of the year. As temperatures rise, one of the most common issues homeowners face is leaking water in or around their HVAC system.
You should also be concerned if your AC unit is draining high volumes of water. Leaking water leads to additional issues within your home such as water damage, mold growth and poor air quality. The cost to fix this issue varies, and replacement may provide better value if your HVAC system is over 8 to 10 years old.
HVAC leaks occur from:

Clogged air filter
Cracked HVAC drain pan

Clogged drain line

Broken condensation pump

Low refrigerant

2. Inefficient Cooling
Over time, HVAC systems usually become less efficient. If it feels like your HVAC system isn't producing the same amount of cold air as it used to, or it is not blowing cold air at all, you may have a problem. Not only does a malfunctioning HVAC system affect the temperature of a home, but it also affects energy bills. If you notice a change in temperature, contact a professional for repair or replacement services.
Depending on the cause, if your AC unit is not blowing cold air it may be of better value to replace the system.
The most common reasons an HVAC system isn't blowing cold air:

Leaking or low refrigerant
A dirty or clogged filter or register
Issues with the evaporator coil or condenser
Thermostat issues
Leaking ductwork
3. Increasing Energy Bill
While seasonal changes affect energy costs, monthly bill comparisons will show what you average each season. An efficient AC system will produce similar year to year bill comparisons. High or increasing energy bills that don't correlate with the temperature shift warn that your AC system is not functioning properly.
Most homeowners don't know that their HVAC system should be serviced 1 to 2 times per year. With regular upkeep, your HVAC system may remain efficient for longer, even as it ages.
Federal laws have increased SEER (Seasonal Energy Efficiency Ratio) requirements. The ratio calculates the amount of energy needed to provide a specific cooling output. Your HVAC's SEER ratio will be a maximum efficiency rating and varies for environmental climates. By law, newer models are expected to match or exceed 13 SEER. This requirement alone increases energy efficiency and lowers energy bills by 30%. 8 to 10 year old AC units often use twice the amount of electricity as a low-end, new system.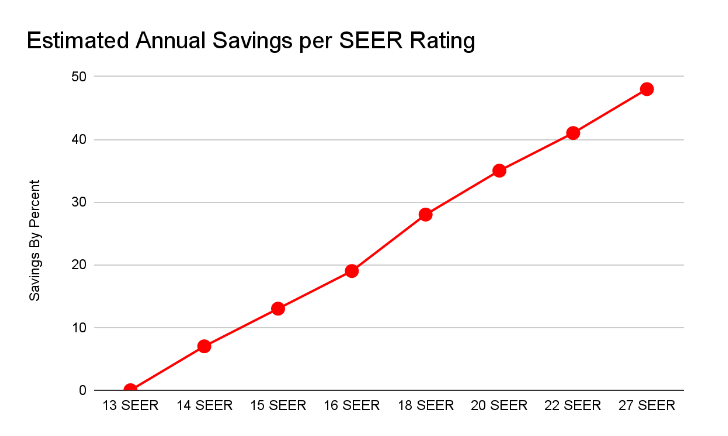 If you need to replace your HVAC system, consider choosing one with a high SEER rating to save money on your energy bill.
Benefits of a high SEER Rated HVAC System
More environmentally friendly with less greenhouse gas emission
Better cooling
Removes moisture from the air
Lower energy bills
Potential federal tax credit
Longer lasting efficiency
4. Odd Sounds
A well-functioning HVAC system should operate relatively quietly. Grinding and squealing noises often indicate problems within the system. Some residents describe these noises as squealing, rattling, banging, buzzing, hissing or whistling.
An increase in noise or odd sounds warns that a system needs inspection and possibly replacement.

The sounds may indicate:
Bad bearings in the blower fan motor

Faulty outdoor fan

Compressor sucking up refrigerant

Improper drainage of excess condensation
5. Odd Smells
An HVAC or AC system should also not emit smells. Must, smoke, sewer, sour or gas smells are among the most common odors that indicate a problem.
If your HVAC system is producing odd sounds or emitting odd smells, call a technician. Repeated repairs may solve the problem for a little while, but your HVAC system will never work nearly as well as it used to. Consider replacing it altogether.
Odd smells may indicate:
Mold, mildew or bacteria building up in the evaporator coil

Overheated wires, motor or fan

Backed up sewer lines or ruptured pipes near ductwork
Standing water in the condensation pan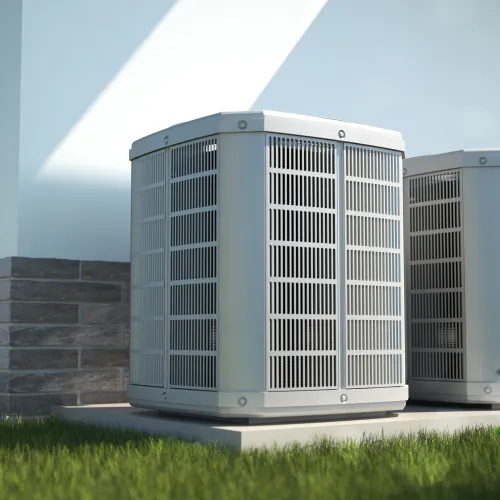 Adding Value to a Home with HVAC Replacement
Do you plan to sell your home in the upcoming years? If your HVAC is older or near the end of its life span, now is a good time to upgrade. A full return won't be reached with an immediate listing. Homeowners who expect to list in the next few years should consider replacement now.
Not only do new HVAC systems cut down on monthly energy bills, but they also add value to a home. HVAC systems are often hot talking points during offers and negotiation requests, and buyers don't like to see old systems. New HVAC systems increase home value by an estimated 5%-10%. With the right timing, you can save on monthly costs and receive a high return on your investment when selling.

Still Unsure Whether to Replace Your Under 20 Year Old HVAC System?

Shumate Air Conditioning & Heating is a full service contracting company offering air conditioning installation, replacement and repair services to Atlanta homes. We are available to assist you 24/7 with any questions you have regarding your aging HVAC system. If you experience any signs of a faulty HVAC, contact our experts about replacement or repair today.